Lifestory Research Announces the 2018-2023 Most Trusted Brands - HVAC.
About Lifestory Research®
Lifestory Research is a trusted national independent market research firm headquartered in Newport Beach, California. At Lifestory Research we are passionate about customers, employees, brands and the science of influence. Our work is backed by research intelligence that drives confident business decisions.

About America's Most Trusted®
America's Most Trusted® is a designation awarded to brands that garner the trust among those they serve. Awards are based upon the collection and evaluation of thousands of consumer opinions. The approach used to capture the opinions of people seeks to adhere to the highest quality standards of consumer insight.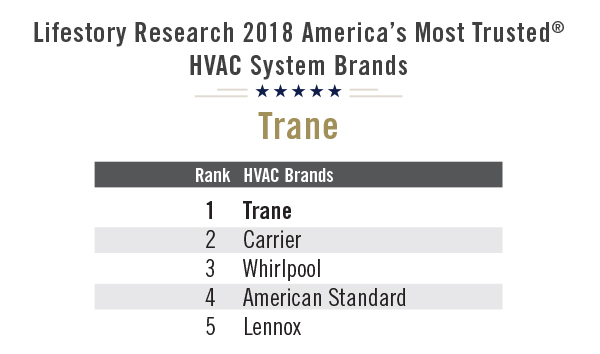 View the full report here
HVAC - Heating, Ventilation, Air Conditioning
For more information on installing TRANE Brand equipment in Niagara, contact Konkle Plumbing & Heating 905-563-4847. Service area includes: Niagara, Stoney Creek, Grimsby, Beamsville, Smithville, Fonthill, Welland, Wainfleet, St. Catharines, Vineland, Jordan. For installation outside of Niagara contact trane.com/canada