Here in Niagara, winter can seem long, and summer all too short! Extend your time outdoors with attractive and practical garage, patio heaters, radiant tube, infloor and other indoor/outdoor heating solutions.
---
Summer is just too short! A warm garage, porch, floor or patio can be enjoyed all year round with the right set up.
Infloor or Radiant Floor Heating

Konkle installs and services infloor & driveway heating systems. No more cold feet or snow shovelling! 
Gas Fire Pits & Fire Features
Natural gas or propane fire pits have been gaining popularity as an option for decks, docks and patios, with good reason!
Not only do they emit heat, they have real flames and comes in a variety of attractive styles. This makes gas fire pits the perfect outdoor centrepiece, and your yard the place to be, even as it starts to cool down outside.
While impressive fire features add value and glamour to your outdoor living space, lanterns and entrance stones are another elegant feature that won't go unnoticed.  
Garage & Shed Heaters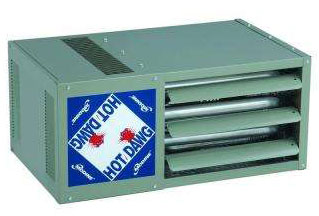 'Man Cave' or 'She Shed' – it needs heat!  Efficiently.
Ask about Radiant Tube Heating. Maximize the use of your extra real estate by transforming your garage into worthwhile space. Easily done with Natural Gas or Propane Heaters.
Konkle offers free estimates on heating your garage space including running gas lines, radiant heaters and radiant in floor options. 
Whether you're looking to spend more time in the garage tinkering with your project car or transforming your garage into another rec room, we can help.
Garage & Patio Heat FAQs
Is it safe to heat the garage?
As long as the heating unit is certified for Canadian installation, the piping is run to current gas Code and is inspected by a licensed Contractor.
What's the difference between a gas and a propane heater?
Natural gas heaters need to be connected to a gas line, and offer continuous use without the need to refill fuel cylinders. On the flip side, they are not as easily moved as propane units. A propane heater is fueled with a standard 20 lb. liquid propane cylinder, which needs to be changed out periodically.
Can I purchase my own fire feature?
With literally tens of thousands of models on the market, you can choose your own unique style. Knowing the Model # will help us, help you ensure compatibility and sizing is right for your home. Get advise before you buy!
Why should I choose Konkle over other companies?
Our Estimator will take the time to visit your home or business, to evaluate the site and offer options to heat and/or cool your space. This site visit is offered at no cost to you and without obligation. Konkle has experienced technicians to add or design features for your home. Guaranteed. 
---
Recent Blog Posts on this Topic
Feb 23rd, 2020
Konkle Plumbing and Heating would like homeowners to be aware of a recent gas Fireplace Recall. U30 U37
Jun 21st, 2019
Build an escape in your own backyard by turning your Niagara garage or outbuilding into a man cave, she shed, or kids' den. Heat your shed, garage or outbuilding with Konkle.
Apr 6th, 2018
There are benefits to heating your space with a Radiant Tube or Infrared Heaters.
Common fuels are Propane and Natural Gas. The hot temperatures generated by burning fuel inside the unit, heat either a steel tube (tube hea...
Heat Your Feet in Style
(Click on an image below to view full size.)
---
Talk To Us About Your Ideas.
Complete the quick form below and we'll help you figure out the right solution for your garage, driveway, floor, patio... Prefer to call us?