Wondering about moisture and why to humidify or dehumidify your home, office or basement? As Canadians living in Niagara, we tend to spend many hours indoors during winter months. Healthy air is vital to our health and our home.
---
Do we need a Humidifier?
Life is busy. Take a moment to look for any signs and symptoms of low relative humidity. If you answer yes to 2 or more of these issues, a Humidifier may be the solution. 35%-50% Humidity is ideal. 
dry or itchy skin, dry nose, sore throat
Static in carpets or curtains
gaps in flooring or trim, chipping paint, plaster 
winter allergies
use of woodburning fireplace
wilting plants
excessive pet shedding
---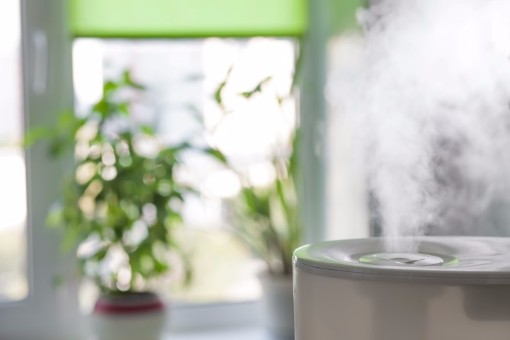 Save Water & Money
A whole-home humidifier is installed on your furnace ductwork. Unlike this plug-in system which can only provide moisture to a small proximity of the unit.
Generalaire Humidifiers with the Water Saver Control saves 50%-96% of your water and still delivers the desired humidity.
Save up to 5% on your Heating Bill. For example: 68F at 40% humidity, feels as warm as 74F at 20% humidity. So setting your furnace back 3 degrees can reduce your annual heating bill. 
---
Humidifier FAQs
How do I know which humidifier to buy?
There are many factors in sizing a humidifier properly. The easy way is to call us and we can advise you by phone or email. 
Based on each individual environment a GPD (Gallons per Day) calculation is required. 
How do I know if my house is dry?
Usually symptoms of dryness are the most common trigger. You can purchase a Humidistat or a Thermostat that has a Humidity sensor. 
How much humidity is right?
Research has shown that 35% to 50% relative humidity is ideal for today's indoor environments. Outside this range, bacteria, fungi, viruses and mites thrive.
Steam vs. Flow Through: What's the difference?
Larger homes (2200sq ft+) or workplaces, may require a more powerful Steam Humidifier. Otherwise, a properly sized flow through will suffice.
Damp Basement?
For significant dampness, mould or mildew, over-the-counter Dehumidifiers may not fix the issue. High Capacity, High Quality equipment may be the cure. 
Quiet, low maintenance, automatic systems make basements more comfortable and usable.  
Quality Brands You Can Trust
Konkle has a reputation in the Niagara Region for providing quality, high efficiency humidifiers/dehumidifiers from quality manufacturers you can trust. 
---
Get A Quote You can Count On!
Complete the quick form below and we'll help you figure out the right solution for your home... and your budget. Prefer to call us?
Serving Niagara since 1981. Niagara area: Stoney Creek, Winona, Grimsby, Beamsville, Vineland, Fonthill, Welland, Wainfleet, Smithville, Campden, St. Catharines, St. Anns, Lincoln, West Lincoln, Thorold, Niagara-on-the-Lake, NOTL.
---
Recent Blog Posts on this Topic
Apr 11th, 2022
The only whole home, indoor air cleaner in north america certified by the AAFA.
Sep 5th, 2017
Wet basement Remedy Niagara